When Girl Power Meets Horsepower
Valerie Mitz is our co-founder here at The Clunker Junker. She is a high-power, no-nonsense, get things done kind of woman. She absolutely eats, sleeps, and breaths our business and cares deeply for its success and the success and well being of our team. I dare say you have never seen anyone who works harder than Valerie does. At The Clunker Junker we all wear many hats in our day to day jobs, and Val is no different. On any given day you'll find her doing everything from cultivating new long-term business relationships, to answering text messages from our sellers, to writing articles for our blog. She is a truly hands on leader that sets the blistering pace for the rest of us in all facets of our business.
Her backstory
Val isn't exactly your average woman either. She grew up in a lower-middle class family in a depressed town in the shadow of Boston, Massachusetts. Her mother was a factory worker in what could only be described as a leather sweat shop where she was "paid by the pocket" and her father was a hard working truck driver. Never content to simply survive, she has always striven for more; to prove to the world that she is a force to be reckoned with and will not be held back.
Valerie attended Roger Williams School of Law in Bristol, Rhode Island where she earned her Juris Doctorate and became a bar certified attorney in Massachusetts, Rhode Island, and Florida. After graduation she moved away from the bone chilling New England winters for the warmer, tropical climate of The Sunshine State where she decided to put her law career on hold to pursue and start her own business with her real passion: automobiles. With her Husband Eric, a software engineer and fellow gearhead, they founded and bootstrapped The Clunker Junker from the ground up, with no outside help or investment. What started as a simple weekend coding project and hobby has turned into a million-dollar business with exponential growth thanks in large part to Valerie's extreme work ethic and get-things-done attitude.
Just one of the guys
A true champion of non-traditional gender roles, Val has excelled in our male dominated industry and earned nothing but the utmost respect from her business associates. It hasn't been easy, though. A majority of our business-to-business clientele consists of junk and salvage yards, tow companies, and auction houses; many of them owned and operated by very traditional men who often don't give women in the industry a second thought. Most, though, have quickly learned what we already know: Val knows her stuff when it comes to cars and business. The Clunker Junker's Cash for Cars and College Scholarship was born largely out of Valerie's passion for proving that women can not only survive in a male dominated world, but thrive in the face of adversity and hardships they will encounter. This scholarship is awarded to female college students who are pursuing a career in automotive technology.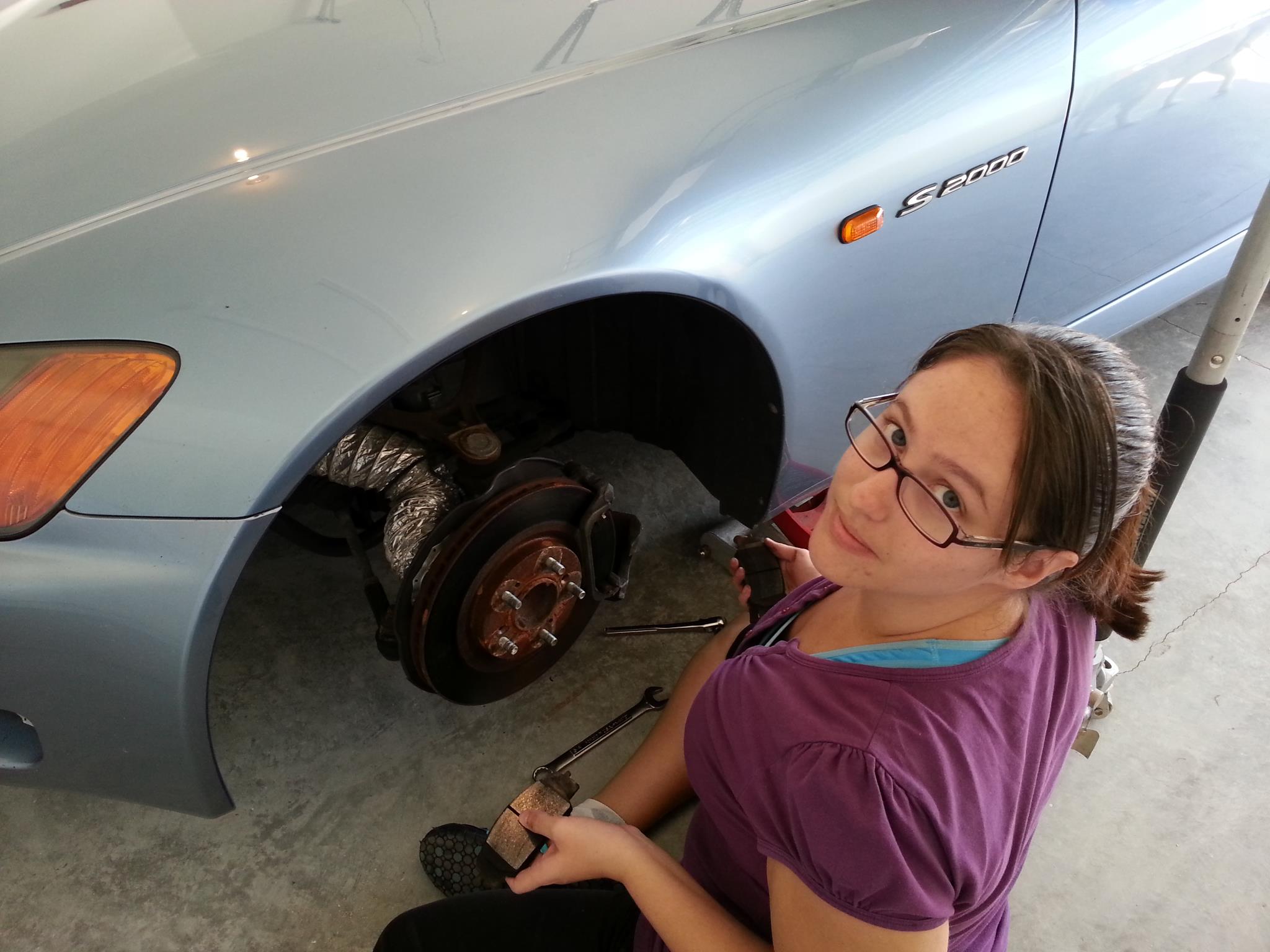 Outside of work Valerie is a diehard car enthusiast who loves everything about cars. Whether it's fixing, modifying, or just showing them off, Val is "one of the guys" when it comes to her beloved car scene. To this day she still changes her own oil, does her own brake jobs, and installs performance parts on her vehicles; she is never happier than when she's covered in dirt, grease, and oil. You won't find a French manicure on her nails, but there is a good chance you'll find some grime under them. In her limited free time she loves to read as much as possible and enjoys works by James Patterson and Janet Evanovich.
Her stable over the years
Her first car was a 1996 Ford Taurus (which she hates to admit!) that would lose power steering in the rain; the one where Ford designers went a little overboard with ovals and ellipses in their design language. Soon though, she bought her first enthusiast car: A 2003 Nissan Sentra SE-R Spec-V. Affectionately known as the "SpecVal", she made this car her own with performance modifications like a cold air intake and high flow exhaust, an aggressive body kit, paint job, and custom graphics! Unfortunately this car met its demise at the hands of a distracted pizza delivery boy who tried to put the trunk in the backseat at a stoplight one fateful night. Together with her husband, she has owned some fantastic cars like an Acura Integra GSR in which she helped swap a Japanese motor in a cold barn with basic tools. A Honda s2000 that she used to compete in autocross events and was part of the "pit" crew for. Recently she has acquired a taste for higher end cars and has owned a highly sought after BMW M3, Porsche 911 GT3, and a Ferrari F430!
She's just getting started!
At 31 years old, we've only seen tip of the iceberg as far as what Valerie is capable of. Already wildly successful by all definitions of the word, she still has plenty more to give and plenty more to prove both to herself and the world. At The Clunker Junker we feel absolutely exultant to have Valerie on our team and at our helm. We wouldn't be where we are today without her and we have never been more optimistic about our future as she leads us forward.