The Most Cash For Cars in Pennsylvania
How does it work?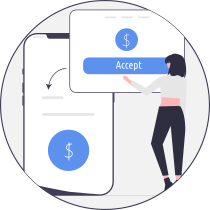 Get A Quote

➡
Start selling your vehicle in Pennsylvania by entering some basic details and we'll give you an instant and guaranteed offer.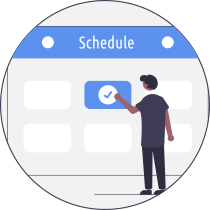 Schedule Pickup ➡
Schedule a pickup time with your local carrier. We can't guarantee same day pickup, but most cars are picked up within 1 to 3 business days.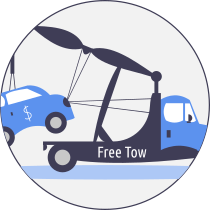 Get Paid ✔
Your local car buyer or carrier will pay you by cash or check on the spot and tow the vehicle away free of charge! 🎉 Hooray!
We buy junk cars for cash in Pennsylvania!
Is there a more patriotic state in the USA than Pennsylvania? As one of the original thirteen colonies, it is quite literally the birthplace of our great nation. In 1776 our founding fathers signed the Declaration of Independence in Philadelphia and created the freest and most powerful nation the world had ever seen.
If you're ready to declare independence from that old car you have sitting around in your driveway, it's time to call The Clunker Junker. We pay cash for cars in Pennsylvania and pick up more cars in the state than any other car buyer, period. We buy cars, trucks, vans, and SUVs in all conditions from complete junkers and clunkers to well taken care of used cars. As long as the vehicle is complete, we'll make an instant offer on it right on our website. Just answer a few short yes or no question, and you'll be off to the races!
We buy cars all across the Keystone State
From Philly to the Poconos to Pittsburgh, Pennsylvanians trust The Clunker Junker when they want to sell a car in Pennsylvania. That's because we pay top dollar for cars, and provide the very best customer service in the industry. In fact, we are so proud of our reviews and reputations, we strongly encourage you to check them out. We're not always perfect, but when things go wrong, we always make things right one way or another. Other car buyers hide their reviews and make it difficult to research them, but we wear our reputation like a badge of honor.
Whether you spend your new cash infusion on some Cheese steaks or tailgating at a Steelers game, one thing is for sure: You won't have to worry about that ugly old car ever again! There are no hidden fees for towing the car or any other service. We want to make sure it's fast, easy, and free.
It's easy to sell your car for cash with The Clunker Junker. Our online tool makes getting a quote quickly a snap. There's no obligation to sell once you get a quote. Find out how much your car is worth today!
Pennsylvania Cash For Cars By The Numbers
We buy cars. A lot of cars.
---
---

Eric's Expert Take
Eric is our founder and CEO and has nearly 15 years of experience buying and selling used and junk cars in the state of Pennsylvania. He is also a data nerd with a finger on the pulse of the cash for cars industry and salvage vehicle values.
---
Hello there! This is Eric Mitz from The Clunker Junker. As someone who's been in the cash for cars industry for over 12 years, I'm here to provide a little insight on our recent transactions in Pennsylvania.
To get an idea of the going rates for junk vehicles in this region, let's break down the averages. On the whole, we've been paying about $622 per vehicle in this area. Breaking it down by vehicle type gives you a closer insight. For instance, compact cars like the Honda Civic or Hyundai Elantra have fetched a slightly lower average of $587. On the other hand, pickup trucks like the Chevrolet Silverado or the Ford F-150 have hit a higher note, commanding an average offer of $705. SUVs and crossovers aren't far behind, often represented by models such as Toyota RAV or Honda CR-V, averaging a solid $678.
To give you an idea of the volume of our activity, we've bought up nearly 15,733 vehicles in recent times, with payments totaling over 10 million dollars. It's fair to say we've seen quite a bit of action!
Interestingly, the Nissan Altima, a medium-size sedan, has emerged as the most popular vehicle in Pennsylvania. While it's a well-rounded car in general, it comes with its own set of common issues. These might range from problems with the continuously variable transmission (CVT) to faulty oxygen sensors. Bearing in mind the costs and trouble of fixing these problems, it might be a smarter decision to sell it off rather than pouring money into repairs, which is why many of our customers choose to do so.
In terms of price evolution, there's been a barely noticeable downward trend in Pennsylvania, with prices fluctuating by about -0.2% per month. This is quite a stable market, mirroring the dynamics we saw a year ago. From my experience, I anticipate these prices to hold steady for a considerable period which makes now an advantageous time to sell your vehicle while the market is pretty stable.
Needless to say, I'll be keeping a close watch on the market and I'll make sure to provide you with up-to-date information on the latest trends. Stay tuned!
How to sign your Pennsylvania car title
Required: The state of Pennsylvania requires that all titles are signed in front of a notary public!
We have put together a simple guide and example for how to sign your Pennsylvania title when you are selling your vehicle. If there are multiple owners listed on the title, they must all sign the title unless the names are separated with "OR".
Find the "Assignment of title" section on the back of your PA title, that's where you'll want to sign, print, and have the notary stamp. Ignore any section that says "Reassignment by registered dealer", you won't be needing that.
First sign the back of the title where indicated by "Signature of Seller". This may need to be done in front of a legal notary.


Always sign in pen on the seller line, and never sign in the dealer section.

Print (don't sign) your name on the back of the title where it reads "Seller and/or Co-Seller Must Handprint Name Here".


Always include any and all middle names or initials that are used in the owner section.

Make sure your notary signs and stamps the title in the notary section.
How to get a duplicate Pennsylvania title
The process for getting a duplicate or replacement Pennsylvania title is fairly simple. If the vehicle was last titled in a state other than Pennsylvania you must apply for a duplicate title in the previous state. The registered owner should do the following:
Bring your duplicate title application to your local DMV office or mail your application to the PA division of motor vehicles at:


PA Department of Transportation
Bureau of Motor Vehicles
1101 South Front Street
Harrisburg, PA 17104


Please note that there may be a waiting period before a duplicate title can be issued and the cost is $22.50. (Paid to the PA division of motor vehicles).
How to get rid of an abandoned vehicle in Pennsylvania
Getting rid of an abandoned vehicle in Pennsylvania can be a difficult process. Unfortunately, you cannot just sell any junk car that ends up on your property if you do not own it. You'll need to follow the Pennsylvania abandoned vehicle removal procedures. We have given a general overview of what that entails below.
You can read more about selling an abandoned vehicle in Pennsylvania
To have an abandoned vehicle removed from your private property, you may first contact your local law enforcement office.


They will use up to (5) five days to investigate the abandoned vehicle. If the vehicle is confirmed abandoned, law enforcement will dispatch a tow truck to remove the vehicle.

The tower responsible for the vehicle has (60) sixty days to locate and contact the last registered owner of the vehicle. If no owner and/or lienholder expresses interest, the vehicle will be sold at public auction.

If you would like to apply for the title to the vehicle, you must enlist the assistance of an attorney and acquire a court order to claim ownership of the abandoned vehicle.
Frequently asked questions in PA
Do you buy cars without title in Pennsylvania?
Yup! We buy many cars without title. That doesn't mean we can buy every car submitted to us, but many of our PA buyers are willing to make offers with no title. They will ask you to prove ownership, however. You'll need a photo identification that matches your insurance card and or registration. Also, don't be surprised if your offer is a bit lower without title.
What if my title doesn't look like the one pictured?
Pennsylvania often changes their title documents from year to year. If you have questions about your specific title, please contact your Pennsylvania DOT.
Do I need to turn in my license plates?
Yes, unless you are transferring the plates to a new vehicle. You can return the plates to your local DOT office.
What should I do about my auto insurance?
You will need to notify your auto insurance company that you have sold the vehicle, so they can either cancel your policy if the vehicle was sold, or transfer/renew the policy on your new vehicle.
Is there anything else I need to do?
You may need to notify your local DOT that you have sold the vehicle. You can contact them with any additional questions or concerns about the transfer of your title.
What are you waiting for? Get and instant offer now!