The Most Cash For Cars in North Carolina
How does it work?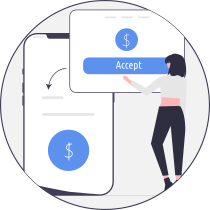 Get A Quote

➡
Start selling your vehicle in North Carolina by entering some basic details and we'll give you an instant and guaranteed offer.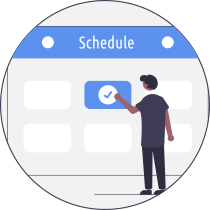 Schedule Pickup ➡
Schedule a pickup time with your local carrier. We can't guarantee same day pickup, but most cars are picked up within 1 to 3 business days.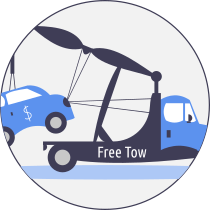 Get Paid ✔
Your local car buyer or carrier will pay you by cash or check on the spot and tow the vehicle away free of charge! 🎉 Hooray!
Junk cars for cash in North Carolina with free pickup.
From Nantahala National Forest in the West to the Outer Banks in the East, hundreds of North Carolinians are contacting The Clunker Junker to sell their and used cars. That's because not only do we pay cash for cars in North Carolina, but we always include free pickup and tow away with every offer. Many of the other guys will try and charge you to tow your car to them, and who wants to deal with that kind of hassle?
In North Carolina, Charlotte is considered NASCAR country. Most of the top teams in the sport call the region home, and it's even where the hall of fame is located. If you have an old car sitting around that is so beat up it looks like it was involved in a wreck at the speedway, it might be time to consider selling your car. If the engine on your old clunker no longer starts, give us a call. We buy junk cars in North Carolina, and we don't care if they have damage, mechanical problems, or if they are in decent shape. In fact, if the car is in working order, we can often pay a lot more than your local North Carolina salvage yard.
In 1903 the Wright Brothers were "First in flight" and launched North Carolina, and the world, into the skies with the first powered flight at Kitty Hawk. The brother's hard work and determination are qualities we like to mirror here at The Clunker Junker. We work hard to make sure the process of selling your car in North Carolina is fast, smooth, and efficient. We're determined to not just pay cash for junk cars, but to provide a pleasant overall experience and unmatched customer service. We've been helping Tar Heels sell and used cars for over a decade.
We're a Trusted Junk Car Removal Service in NC That Pays Top Dollar Cash for Clunkers
We've made thousands of cash offers for NC junkers all through the state, giving North Carolinians the cash they deserve for their old cars. Want to get rid of your junker for cash on the spot in The Tar Heel State? Reach out to The Clunker Junker to finally get rid of your junker and put money in your pocket!
North Carolina Cash For Cars By The Numbers
We buy cars. A lot of cars.
---
---

Eric's Expert Take
Eric is our founder and CEO and has nearly 15 years of experience buying and selling used and junk cars in the state of North Carolina. He is also a data nerd with a finger on the pulse of the cash for cars industry and salvage vehicle values.
---
Hello, my name's Eric, the founder and CEO of The Clunker Junker. Over the past month, we've received a fascinating spectrum of offers from North Carolina. We're a reputable business that has spent over 12 years in the cash for cars industry, and we have some deep insights to share with you about the local market trends in North Carolina.
Our data from the past month shows that we're typically offering an average of around $519 for used and junk cars in North Carolina. This isn't a concrete figure, though, as the price could swing in either direction to a certain degree, depending on the type of vehicle.
Take compact cars, for instance. Regardless of whether it's a Ford Fiesta or a Hyundai Sonata, small cars are typically on the lower end of our payout scale, averaging approximately $477. These cars are often more affordable to repair and maintain, so their market value tends to be a bit lower.
On the flip side, if you're selling a pickup truck, like a Ford F-150 or a Chevy Silverado, you're in for a bit of a windfall. Such vehicles command our highest offers, averaging around $651. This is largely due to the versatility and durability of pickup trucks, which increases their market demand and value.
For those selling SUVs and crossover vehicles, such as a Honda CR-V or a Toyota RAV4, the average payout rests somewhere in the middle at $606. These vehicles are wildly popular due to their spacious interiors and higher sitting position, providing a comfortable and safe driving experience.
So far, we've purchased around 18,775 vehicles and have handed over more than $10 million to our satisfied customers! One of the most sought-after vehicles in North Carolina happens to be the Honda Accord, a sleek and reliable sedan. While the Accord is recognized for its fuel efficiency and longevity, it's not without its common problems such as premature brake wear and transmission failure. Sometimes, the cost of fixing these issues can closely rival the value of the car itself, making selling a beneficial option for many Accord owners.
Over the past year, we've observed that car prices in North Carolina have generally remained stable, with only a marginal monthly change of -0.4%. These stable prices indicate a strong and robust market, making now an ideal time to sell your used or junk car. Rest assured, as part of our commitment to you, we will continue to monitor the market closely, keeping you abreast of the latest trends and shifts.
In essence, it's been a prosperous 30 days for us at The Clunker Junker. We look forward to continued growth and opportunity in purchasing your used and junk vehicles, and providing fair and competitive offers based on the current market trends.
How to sign your North Carolina car title
Required: The state of North Carolina requires that all titles are signed in front of a notary public!
We have put together a simple guide and example for how to sign your North Carolina title when you are selling your vehicle. If there are multiple owners listed on the title, they must all sign the title unless the names are separated with "OR".
When signing and notarizing your North Carolina title, make sure you are using the back of the title in the top section that says "Re-assignment of title by registered owner". Leave blank the section for re-assignment by licensed dealers and purchaser's application for new certificate of title.
First sign the back of the title where indicated by "Signature(s) of Seller(s)" (see image). This may need to be done in front of a legal notary.


Always sign in pen on the seller line, and never sign in the dealer section.

Print (don't sign) your name on the back of the title, where it reads "Printed Name(s) of Seller(s)".


Always include any and all middle names or initials that are used in the owner section.

Have the title notarized, this is required by the state.
How to get a duplicate North Carolina title
The process for getting a duplicate or replacement North Carolina title is fairly simple. If the vehicle was last titled in a state other than North Carolina you must apply for a duplicate title in the previous state. The registered owner should do the following:
Fill out the North Carolina Duplicate Title form.
Bring your duplicate title application to the DMV or mail your application to the NC division of motor vehicles at:


N.C. Division of Motor Vehicles
3148 Mail Service Center
Raleigh, NC 27699-3148


Please note that there is a three to five day waiting period before a duplicate title can be issued and the cost is $25.00. (Paid to the NH division of motor vehicles).
How to get rid of an abandoned vehicle in North Carolina
Getting rid of an abandoned vehicle in North Carolina can be a difficult process. Unfortunately, you cannot just sell any junk car that ends up on your property if you do not own it. You'll need to follow the North Carolina abandoned vehicle removal procedures. We have given a general overview of what that entails below.
You can read more about selling an abandoned vehicle in North Carolina
To have an abandoned vehicle removed from your private property, you must first contact local law enforcement. A (7) seven day warning sticker will be affixed to the vehicle.


If the vehicle remains on your private property after the (7) seven day hold, you may have the vehicle removed by private tow.

If the vehicle remains unclaimed for upwards of (30) thirty days, the salvage yard may begin the process of selling the abandoned vehicle through public sale/auction.
Will you buy cars with no title in North Carolina?
Yes, we have purchased many cars that didn't have a title in North Carolina. However, the offers are much lower. You'll also need to be able to prove you are the legal owner by presenting a photo ID like your license that matches a valid registration or insurance card.
What if my title doesn't look like the one pictured?
North Carolina often changes their title documents from year to year. If you have questions about your specific title, please contact your North Carolina DMV.
Do I need to turn in my license plates?
Yes, unless you are transferring the plates to a new vehicle. You can return the plates to your local DMV office.
What should I do about my auto insurance?
You will need to notify your auto insurance company that you have sold the vehicle, so they can either cancel your policy if the vehicle was sold, or transfer/renew the policy on your new vehicle.
Is there anything else I need to do?
You may need to notify your local DMV that you have sold the vehicle. You can contact them with any additional questions or concerns about the transfer of your title.
What are you waiting for? Get and instant offer now!