The Most Cash For Cars in Louisiana
How does it work?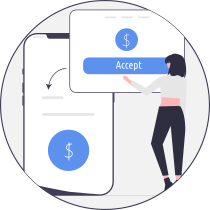 Get A Quote

➡
Start selling your vehicle in Louisiana by entering some basic details and we'll give you an instant and guaranteed offer.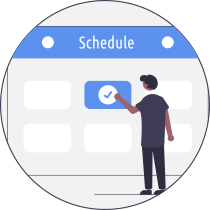 Schedule Pickup ➡
Schedule a pickup time with your local carrier. We can't guarantee same day pickup, but most cars are picked up within 1 to 3 business days.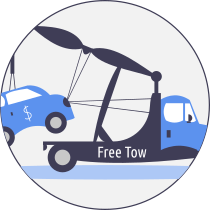 Get Paid ✔
Your local car buyer or carrier will pay you by cash or check on the spot and tow the vehicle away free of charge! 🎉 Hooray!
We buy junk cars for cash in Louisiana!
Do you have a used or junk car sitting around your yard just taking up space and rusting away? Do you need some extra cash? (who doesn't?). The Clunker Junker pays cash for cars in Louisiana, and we pick them up and tow them away completely free of charge. You won't even have to leave the comfort of your home! Forget about wasting your time creating a bunch of ads on Craigslist or eBay. We buy cars in Louisiana today and pay you cash right on the spot. If you are looking to sell your car in The Bayou State, look no further! We want to "buy you" car! (We love puns here at The Clunker Junker).
At 24 miles long, the Lake Pontchartrain Causeway is the longest bridge in the USA! If your old clunker is in such bad shape that you're not sure whether it can make it from one side to the other without breaking down, it's time to call The Clunker Junker. Rather than try and drive it off the side of the bridge and into the lake, we will buy your car and take it off your hands. We'll also fill your pockets with some extra cash for your car in Louisiana!
From Bossier to Lafourche, we buy and used cars, vans, trucks, and SUVs in all of Louisiana's 64 parishes. Whether your car is broken, wrecked, rusted, or even just slightly used, we will be happy to make an instant offer right here, right now. It's finally time to sell your car, so let us make a "Louisiana Purchase" and haul it off your property free of charge.
How to easily get cash for cars in Louisiana
We're the experts at Bayou State junk car removal. We buy junk cars all over Louisiana, and do the owners the favor of towing them to the auto salvage yards. We've created a highly efficient car buying service in Louisiana. We've broken it down into three simple steps. It's never been easier to get cash for junk cars in The Big Easy!
We Buy Junk Cars In LA Fast And Free
Now, if you're ready to sell your car in Louisiana, reach out to The Clunker Junker. No matter where you are in the boot, we'll find you and make a deal on the spot. No delay, no trouble, no negotiating. We'll help you to sign the title and duplicate it if necessary, too.
We'll rapidly send someone over to remove your car. You'll get a wad of cash. You'll get on with your life, and use the cash to buy a new car. Why wait?
Louisiana Cash For Cars By The Numbers
We buy cars. A lot of cars.
---
---

Eric's Expert Take
Eric is our founder and CEO and has nearly 15 years of experience buying and selling used and junk cars in the state of Louisiana. He is also a data nerd with a finger on the pulse of the cash for cars industry and salvage vehicle values.
---
Hey, I'm Eric from The Clunker Junker and I've been looking at our recent offers for vehicles in Louisiana. On average, we're paying about $549. Our lowest offers are for small cars like the Honda Civic or Toyota Corolla at around $495 and our highest offers are for pickup trucks like the Ford F-150 or Chevy Silverado at $755 on average. SUVs and crossovers like the Jeep Grand Cherokee or Honda CR-V fall in between those figures at around $614. At The Clunker Junker, we've recently purchased a total of 6146 vehicles, paying out an impressive 3 Million dollars! In Louisiana, our most popular model was the Nissan Altima - a sedan known for its reliability and affordability. However, like all cars, issues can arise over time which can be costly to fix. Common problems with the Nissan Altima include engine problems, transmission failure, and electrical systems malfunctions. If the cost of repair is too high for your budget, selling the vehicle may be your best option.
It appears that the Louisiana "cash for cars" used car market has remained fairly consistent over the past year. Prices are only adjusting slightly, decreasing an average of -1.4% each month. This level of stability makes it a great time for vehicle owners to sell as the market is unlikely to fluctuate significantly. I'll monitor the conditions and keep you informed of any changes or trends in the near future.
How to sign your Louisiana car title
Required: The state of Louisiana requires that all titles are signed in front of a notary public!
We have put together a simple guide and example for how to sign your Louisiana title when you are selling your vehicle. If there are multiple owners listed on the title, they must all sign the title unless the names are separated with "OR".
On a Louisiana title, you will want to sign and print on the back of the title in the section that says "Assignment of title by registered owner". Never write anything in the "re-assignment by licensed dealer" sections.
First sign the back of the title where indicated by "Signature(s) of Seller(s)".


Always sign in pen on the seller line and never sign on the buyer or transferee line

Print (don't sign) your name on the back of the title, where it reads "Printed Name(s) of Seller(s)".


Always include any and all middle names or initials that are used in the owner section.
How to get a duplicate Louisiana title
The process for getting a duplicate or replacement Louisiana title is fairly simple. If the vehicle was last titled in a state other than Louisiana you must apply for a duplicate title in the previous state. The registered owner should do the following:
Fill out the Louisiana vehicle application. Complete the "Duplicate Title Affidavit" section.
Bring your duplicate title application to your local OMV office or mail your application and payment to:


Office of Motor Vehicles
P.O. Box 64886
Baton Rouge, LA 70896  


The fee for a replacement Louisiana title is $18.50, plus an additional $8.00 handing fee.
How to get rid of an abandoned vehicle in Louisiana
Getting rid of an abandoned vehicle in Louisiana can be a difficult process. Unfortunately, you cannot just sell any junk car that ends up on your property if you do not own it. You'll need to follow the Louisiana abandoned vehicle removal procedures. We have given a general overview of what that entails below.
You can read more about selling an abandoned vehicle in Louisiana
Attempt to locate the legal owner of the vehicle using the VIN 17-digit number.

Contact your local law enforcement office to have them affix a (24) twenty-four hour notice of removal on the vehicle.


If the vehicle remains on your property for longer than (24) twenty-four hours, it may be towed and stored as law enforcement seeks out the legal owner.

If the vehicle has remained unclaimed by the registered owner and/or lien holder for a period of more than (3) three months, it will be sold at auction or destroyed, determined by an appraisal.


If sold at auction, the new owner of the vehicle may apply for the title.
Do you buy cars in Louisiana without titles?
Sometimes, yes! Your vehicle will have to be older than 2006, and you'll be asked for proof of ownership. This is generally a registration or insurance card that matches your photo ID. Offers without title are generally lower than if you had a valid title. We do not guarantee that we can buy every car in every city without titles.
What if my title doesn't look like the one pictured?
Louisiana often changes their title documents from year to year. If you have questions about your specific title, please contact your Louisiana OMV.
Do I need to turn in my license plates?
Yes, unless you are transferring the plates to a new vehicle. You can return the plates to your local OMV office.
What should I do about my auto insurance?
You will need to notify your auto insurance company that you have sold the vehicle, so they can either cancel your policy if the vehicle was sold, or transfer/renew the policy on your new vehicle.
Is there anything else I need to do?
Fill out the Notice of Vehicle transfer online form.
What are you waiting for? Get and instant offer now!